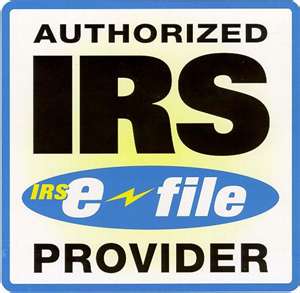 FREE e-file Included With All Tax Returns.
Our service includes FREE e-file with all tax returns processed. To use FREE e-file service you must have an EFIN number, which will be assigned to you by the IRS. There is no fee charged to get this number. Please follow directions below to register.
Please allow 30-45 days to get this number because it does take time.
If you applied for your EFIN number but did not receive it, you can start processing tax returns and we will e-file them as soon as you will receive your number.
Best way to e-file your tax returns is in batches. This way, you can keep track of all your clients in more orderly fashion. Every time returns e-filed, we will generate 2 reports. First report is called Confirmation report which will show the list of clients e-filed, which returns have been e-filed (i.e. Federal, state/states/city) and the amount due/owed by taxpayer on each return. This is your control report. Second report, called Acknowledgement report, will be generated when returns will pass government e-file center. This report will show which returns have been accepted/rejected by e-file center. In case of rejection, you will be contacted by phone/email to resolve the issue in question. In most cases it is as simple as an incorrect ID number on a W-2/1099 Form or date of birth of Taxpayer/Spouse/Dependent.
We do have experience in resolving the issues and will guide you all the way.
Both reports will contain the list of the same taxpayers that were originally e-filed in a specific batch. Reports can be emailed, faxed or mailed to you.
DO YOU HAVE YOUR NUMBER?
According to IRS rules and rules of many states, starting 2011 tax year, if you process 10 or more tax returns, including extensions, all your tax returns MUST be e-filed.
To be able to do it, you must have an EFIN number. If you do not have one, you can REGISTER with the IRS or use Form 8633. Please don't wait until the last second. It will take IRS about 30-45 days to process and assign a number and for you to receive it.
If you have any questions, please feel free to contact us at (646) 637-3269 or email us with any questions on this subject.