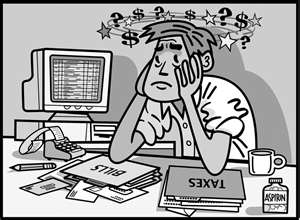 When tax season rolls around and you need office help, by you using my service you can eliminate all the hassles of looking and teaching someone who has no clue what your business is all about. If you are a tax preparer and spend your time visiting clients, my service is your best solution.
I will send you input sheets that are really easy to fill out. The first year will take a little longer because we don't have any data. The following year will be a lot simpler. You will receive a proforma which will have all data from prior year printed in the prior year column. All you have to do is give me input for the current year. It is THAT SIMPLE.
Services offered:
1040 – Individual Income Tax Returns
1041 – Estate and Fiduciaries
1065 – Partnership Returns
1120 – Corporation Tax Returns
1120S – S Corporation Tax Returns
990 – Return of Organization Exempt From Income Tax
ALL STATES
W-2 – Printing and e-filing of W-2 Forms
1099 – Printing and e-filing of 1099 Forms
Bookkeeping – Using QuickBooks software

After you will fill out input sheets, there are 2 ways of sending them to me. Use a fax machine to fax them or mail them in. Returns will be prepared and printed the same day. There are 2 options of getting your finished returns back. They can be emailed as an Adobe pdf file or mailed to you. Collation services available. After you review tax returns and get your clients approval and signatures for e-file, you will submit the list of taxpayers or corporations that are ready to be e-filed. The list could be faxed or emailed to me and returns will be e-filed the day list is received. Special report is created at time of e-file to show prepares which returns have been accepted or rejected by the IRS or states. In cases of rejected returns I will figure out the reasons for rejections and returns will be e-filed again. IT IS THAT SIMPLE.