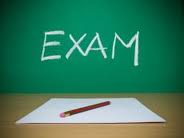 IRS Return Preparer Office
Scheduling for the Registered Tax Return Preparer test is now available. To schedule an appointment, simply log into your PTIN Account and select "View Next Steps and Outstanding Requirements" from the Main Menu page. From there, select "Schedule a Test or Re-test". You can schedule and pay for your test online. The test fee is $116.
More information about the test, including study resources and a list of test center locations, is available on the IRS.gov Website. You must take and pass the test by December 31, 2013.
Good luck!