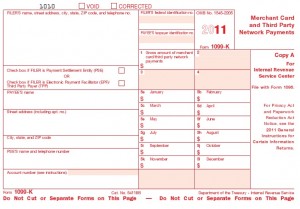 New form 1099-K produced confusion, here are some answers.
My website is getting a lot of hits with people confused on how to handle new Form 1099-K. Most people don't know where to make the entry on their tax return. I decided to help and here are some answers to your question.
What is form 1099-K?
Form 1099-K must be sent by all credit card companies and any other companies that received payments for purchases and passed the money to a business or an individual who sold the goods to a consumer. To make this simple, this is a portion of gross receipts that was paid for by credit cards, PayPal, Google Checkout, and other companies that provide similar transactions.
Where do you enter 1099-K information?
Form 1040, individual tax return
On form 1040 you have to make this entry on Schedule C (self employment). Add up all 1099-K amounts and enter the total on Form 1040, Schedule C, line 1a. Don't forget, 1099-K amount is part of your gross receipts. If you received payments by check or cash for the same business, you need to enter those items on line 1b, as the other part of your gross receipts. The total of line 1a & 1b becomes the total of your gross receipts.
Form 1065, Partnership, LLC, 1120, 1120S For Tax Year 2011
If you are the only member in the partnership, file your business income on Form 1040, Schedule C. You don't need to file Form 1065. The only thing you need to do is enter the name of your LLC and the ID number on Schedule C. Form 1099-K amount is reported the way I described it above.
If your Partnership, LLC, has more than 1 member, for 2011 tax year you add your 1099-K amount with your other receipts and you need to make only 1 entry on line 1b which is your gross receipts. Don't forget, 1099-K amount is part of your gross receipts.
Form 1120, 1120S for 2011 is treated the same way. 1099-K amount added together with all other receipts and should add up to the gross receipts for the year.
I hope this helps.