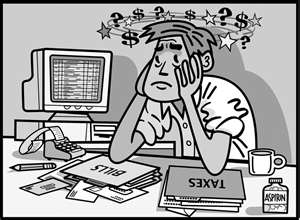 When tax season rolls around and you need office help, by you using my service you can eliminate all the hassles of looking and teaching someone who has no clue what your business is all about. If you are a tax preparer and spend your time visiting clients, or sole practitioner with a small practice, or retired accountant with few clients that you still do work for, my services for CPA is your best solution.
This service for tax preparers is designed with simplicity in mind. After over 30 years experience in the tax service for CPA & tax preparers field, i have enough experience & knowledge on how to design input sheet forms with CPA & tax preparer in mind.
The forms are very simple and easy to use and at the same time, they are very extensive. In most cases you don't need to use any state forms, the system is intuitive enough as to create state return based on the federal input data. Every set of data sheets comes with INDEX page that tells you exactly where and on what form you can find a certain input area for a particular form, i.e. W-2, Schedule E, 1099-R. All you need to do is get that form and copy your clients information from the form received by your client onto the form you will use to send data to me. In some cases, some of my users, have sent me a copy of the original form which I used to input data and save them time.
Take a look at some data sheet samples and you will see what i mean.
After input sheets have been filled out, there are 2 ways of sending them to me. Use a fax machine to fax them or mail them in. Returns will be prepared and printed the same day they are received in most cases. There are 2 options of getting your finished returns back. They can be emailed as an Adobe pdf file or mailed to you. All you need to do is attach your notes and staple the copies. If you want us to handle your copying and assembling of tax returns we do have collation services available.
After you review tax returns and get your clients approval and signatures for e-file, you will submit the list of taxpayers or corporations that are ready to be e-filed. The list could be faxed or emailed to me and returns will be e-filed the day list is received. Special report is created at time of e-file to show prepares which returns have been accepted or rejected by the IRS or states. In cases of rejected returns I will figure out the reasons for rejections and returns will be e-filed again. IT IS THAT SIMPLE.
The following year you will receive a pro-forma of all returns that have been prepared in the prior year. It will contain information from prior year and all you do is make entries for the current year next to the entries from prior year.
GET YOUR RETURNS PROFORMA READY FOR UPCOMING TAX SEASON WITH THIS FREE OFFER
Security and Confidentiality
Software i use, uses 128-bit encryption, Strongest SSL Encryption Available. I guaranty full confidentiality and security for you and your taxpayers.