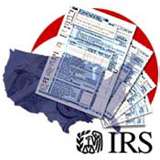 Recent IRS News
View recent, tax-related IRS news releases below.
Resources for Tax Preparers:
IRS Releases Specifications for Registered Tax Return Preparer Test IR-2011-89, Sept. 6, 2011

WASHINGTON — The Internal Revenue Service today released the specifications for the competency test individuals must pass to become a Registered Tax Return Preparer.

The test is part of an ongoing effort by the IRS to enhance oversight of the tax preparation industry. Preparers who pass this test, a background check and tax compliance check as well as complete 15 hours of continuing education annually will have a new designation: Registered Tax Return Preparer.

The specifications identify the major topics that will be covered by the test, which will be available starting this fall. Although individuals who already have a provisional preparer tax identification number (PTIN) from the IRS do not have to pass the exam until Dec. 31, 2013, they may take the exam at any time once it is available.

The test will have approximately 120 questions in a combination of multiple choice and true or false format. Questions will be weighted and individuals will receive a pass or fail score,

with diagnostic feedback provided to those who fail.

Test vendor Prometric Inc. worked with the IRS and the tax preparer community to develop the test. The time limit for the test is expected to be between two and three hours. The test must be taken at one of the roughly 260 Prometric facilities nationwide.

To assist in test preparation, the following is a list of recommended study materials. This list is not all-encompassing, but a highlight of what the test candidates will need to know >> Read More >>

Top Errors for Paid Preparers on Paper Return Submissions
The top errors for paid preparers on paper return submissions this filing season include not claiming the rate reduction credit when it applies, as well as claiming the credit incorrectly.
Electronic Payment Options Electronic payment options are convenient, safe and secure methods for paying taxes. If there is a balance due, you can e-file the return and payment authorization in a single step
Online Payment Agreement The Online Payment Agreement (OPA) allows eligible individuals to apply for an installment agreement to pay off their tax liability. To qualify, you must have your bill from the IRS and have filed all required tax returns. You must owe less than $25,000 and be able to pay the entire liability within 60 months. To use this application you must have filed a Power of Attorney for all taxes that are unpaid and have a copy of the taxpayer's bill from the IRS.
Your link to all things e-file and e-pay including e-Services. Designed as an easy to follow, one-stop resource center for IRS e-file and e-payment information. We've included everything you'll need to get started in IRS e-file as well as links to other valuable information for tax professionals.