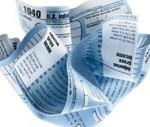 A tax return is signed under penalties of perjury and is not an opening offer, quipped journalist Lee Sheppard.  True, but we all make mistakes.  Besides, some items—like an amended an Form K-1 or 1099, may show up after you've filed.  The IRS doesn'texactly allow tax return do-overs. 
Still, if you discover an error on your tax return, the only way to fix it is to amend your return.  There are many myths about amended returns, but the IRS recently listed some things they want you to know.  See IRS Summertime Tax Tip 2011-12.
Do Amend.  If your filing status, dependents, total income, deductions or credits were reported incorrectly, amend. » Read more..